A little less of St Denis
Lost in the great fire at Notre Dame Cathedral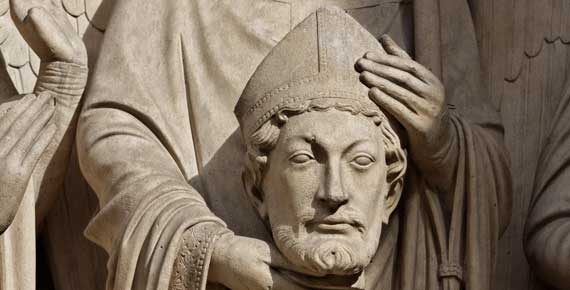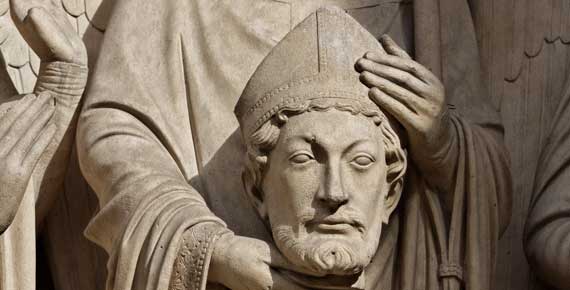 Saint Denis was a 3rd-century Christian martyr and saint – martyred for his faith by decapitation, thus now portrayed carrying his head in his hands.
He was an Italian sent to convert Gaul (which encompassed present day France, Luxembourg, Belgium and most of Switzerland as well as the parts of Italy, the Netherlands and Germany) who stayed on to become the first Bishop of Paris, building a church on the Île de la Cité (the 'Island of Paris'), where Notre Dame Cathedral now sits.
He was beheaded sometime between 250 and 270.  900 years later, in 1163, work began on Notre Dame – so badly damaged in the devastating fire on 15th April 2019.
Hop back to 1831 when Viollet-le-Duc began major restoration work on the building – as part of the project, he added the 93 metre (305 ft) spire, which was destroyed in the fire.  On top of the spire was a weather vane containing three holy relics: a fragment (supposedly) of the Crown of Thorns, a relic of St Genevieve and a relic of St Denis – all destroyed.  A tear in memory, therefore, from our own St Denis' church in East Hatley.
The fire was, it seems, 'an accident' – while perhaps not deliberate, fires are always preventable; classically, it happened during a much-needed and major restoration project.  Thankfully, no such calamity befell our St Denis' when it was restored in 2005, or last year during the Friends of Friendless Churches first stage of its project to bring the interior back into use.
---
Happy Birthday St Denis!
A pleasant surprise on 8th October 2020 – St Denis's 1,775th birthday – was the announcement of a Culture Recovery Fund grant, worth £58,200, for more repairs to St Denis' church East Hatley.  Here's our news story.
Post created 17 April 2019; updated 8th October 2020.